Take a break from the glitzy casinos and give yourself the amazing opportunity to connect with nature in Red Rock Canyon. Las Vegas is not only about nightlife and glamour; it can offer you different natural wonders, and Red Rock Canyon is one of them. Shed a few sweats to hike up the beautiful trails between the sandstone landscapes and reach the top.
Red Rock Canyon was the bottom of an ocean basin that accumulated limestone and dolomite for over 250 million years, creating a sandstone desert. Just a few miles away from Las Vegas, Red Rock is a worldwide geological interest that offers you amazing natural beauty in its rock formations.
Timings & Ticket Information
The Scenic Drive in Red Rock Canyon is open all year round. However, the operating hours of the Red Rock Canyon change depending on the season. In summers, from April to September, the Scenic Drive is open between 6 AM to 8 PM. From November to February, the park operates between 6 AM to 5 PM. Additionally, the park opens at 6 AM and closes at 7 PM in March and October. The visitor center at the park opens daily from 9 AM to 4:30 PM. You can check out the indoor and outdoor exhibits in the center of the plant specimens from the canyon. Pick up some souvenirs from the Elements shop to make the trip memorable.
The entry ticket fee for a pedestrian or a person with a bicycle is only $5. If you are taking a motorcycle, the fee is $10, and for a private car or truck, it is $15. The ticket is valid only for a day until the park closing time. Annual passes are also available, saving a lot of money and cost $30. You can also check out the entrance fee-free days when the entry fee is waived on special occasions. Visit the online sites to book the tickets in advance. The tickets also include parking reservations; hence booking it well in advance is recommended to secure a parking spot on your day of arrival.
How to Reach
It is approximately a 30 minutes drive from the Las Vegas strip to Red Rock Canyon Park. Public transportation is also available such as taxis and buses, and a bus ride from NB Town Center will take an hour to reach the destination. If you plan to hike or indulge in other adventures, availing of public transportation is recommended.
Things to Do in and Around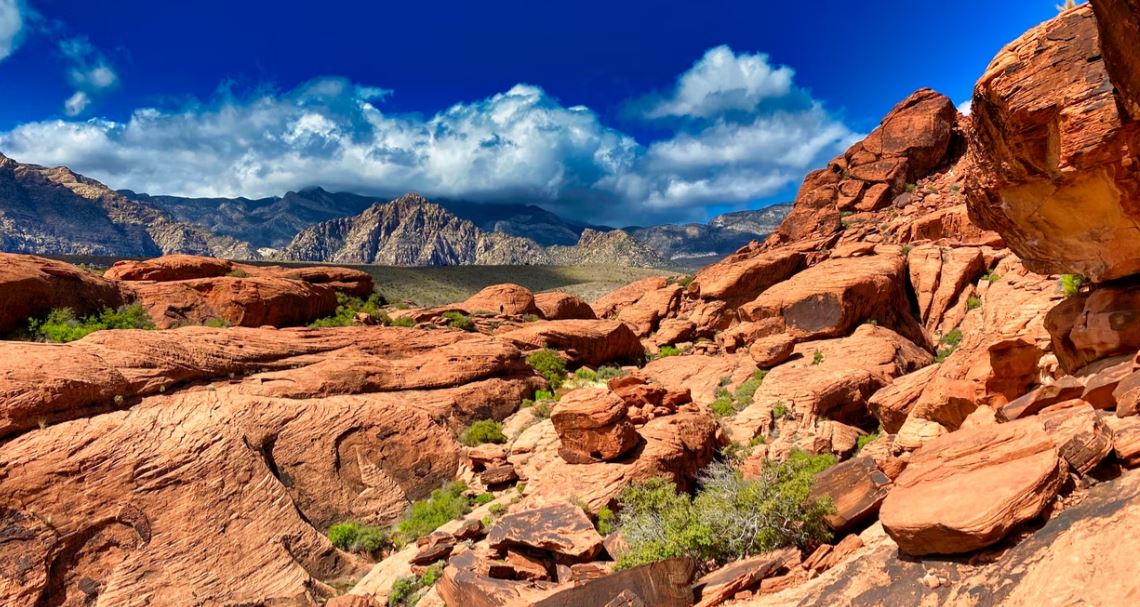 If you are in an adventurous mood, Red Rock Canyon has a lot in its bag. Let's look at some of the best things to do in and around the canyon. Starting with the most popular hiking trails in Red Rock Canyon, it is a great way to explore the wilderness of Nevada. You can choose from three trails to match your abilities. Experience the sandstone scenery and learn about the unique desert vegetation. On the hiking day, several tour companies provide pick-up and drop-off facilities from Las Vegas to Red Rock Canyon.
Another favorite activity around this area is scooter tours. Instead of hiking, you can take the scooters and drive up to the scenic desert landscapes that reach up to 7,000 feet. You can also take electric bikes on a self-guided trek. Scooter cars are also available for people who do not want to drive but want to enjoy the scenic loop. You can also go for a horseback riding tour to soak in the cowboy mood amidst the desert. It is a 2-hour tour and friendly for first-time riders as well. Moreover, the nearby Hoover Dam mini-tour or the kayak tour at Emerald Cove are other interesting options to avail yourself of when you are around Red Rock Canyon.
How to Contact
Red Rock Canyon's visitor center is located at 1000 Scenic Loop Dr, Las Vegas, NV 89161, United States. For queries and general information, you can reach the helpline at +1 702-515-5350. If looking for programs and guided hikes, you can call +1 702-515-5367.