With international borders opening up after a two-year shutdown following the Pandemic, airlines have swung back into action to do brisk business and promote travel and tourism expansively. In a scenario where the mutating virus is still feared to cause transmissions and infections, people prefer flying air services that provide biosecurity in a bid to control the contagion. Air Canada is one of the leading commercial airlines in the world that has health and safety as one of its uppermost priorities. It operates from one of the four bases in Canada – Montreal, Vancouver, Winnipeg, and Toronto.
Air Canada serves a wide and impressive domestic and international network – more than 220 destinations across 6 continents. It is categorized as a 4-Star airline because of the signature services it provides at the airport, onboard, and post-flight. It earns exceptional customer ratings in terms of cleanliness, inflight entertainment, food and beverage services, onboard amenities, deportment of the staff and crew on and off the field (cabin and ground staff), concierge service, and more.
Now, if you were to fly Air Canada and realized missing or losing your bag in transit, what were you to do? Develop cold feet? Nah! We tell you precisely what to do. Follow the steps given below diligently, and you will never find yourself in the lurch. The bag will almost always find its way back to you.
Approach the Lost Property Office
Upon arrival, if you notice missing your bag, then approach the Central Baggage Office or the baggage service agent without delay at the destination airport. The officers at Central Baggage Office can be contacted at a toll-free number 1 888 689-BAGS (2247), Mondays through Sundays between 5:00 hours and 23:00 hours. They would want to check with a few details to create the WorldTracer incident report and issue an incident report number which is a combination of letter and numbers; details would include your name and contact information, a complete description of your baggage, an exhaustive list of contents within the bag, your boarding pass, and your baggage claim stub that the officials issued to you when you checked-in your luggage at the baggage drop counter at the departure airport.
You can access the WorldTracer website with your incident report number to stay updated with the latest status on your lost baggage. Please note that tracking your baggage could take longer in case of rerouting, where more than one airline is involved in the process as in international flights, high flight frequency and heavy congestion, Customs and Immigration procedures at all the connection points, etc. Your patience and cooperation with the authorities will be highly solicited.
Fill the Online Baggage Claim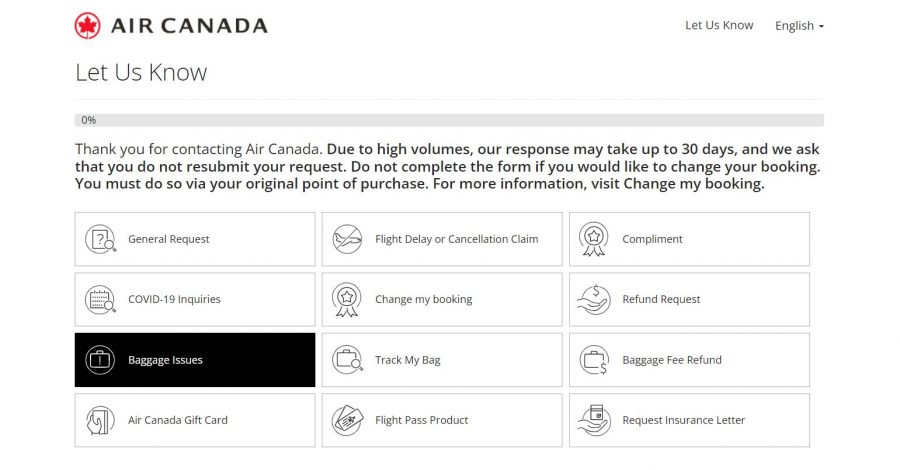 Baggage location is a time-taking process that may require you to leave the airport premises without your bag, while the officers-in-charge promise to do their best to reunite you with your lost belongings in the quickest possible time. In the rare case that they cannot keep their word, that is if your bag is still missing after 3 days, you will be required to fill the baggage tracing form that you can access from their 'Baggage Issues' section of 'Let Us Know' page of their official website. The sooner you fill in and upload the necessary details, their Central Baggage Tracing team swings into action. Please ensure that you correctly enter the description and all the contents of your bag as accurately as you can.
The officers will ensure that the checked baggage fee is refunded to you in case of delayed arrival of your bag. Retain all necessary receipts with you if you must make a compensation claim at the Baggage Claims service desk. In such a case, they will reimburse you suitably for the incurred losses over the delayed arrival of the baggage. The compensation will be enough to cover expenses for essentials like clothes, medicines, toiletries, etc.
To lay a claim, you must complete the 'Submit Expenses' section on their 'Let Us Know' form. Have the following details handy – your WorldTracer Incident Report number; your boarding pass; your baggage claim stubs/tags; flight information; and all the original receipts.
Though the airline will spare no effort in locating your delayed baggage, in the unfortunate event that it fails to track it down, it will make all arrangements to offer you a fulfilling indemnity in compliance with Air Canada's Conditions of Carriage.
Reach Customer Service via Phone or Social Media
It is a good idea to shoot an email to the Customer Care authorities with complete details of your lost baggage, your contact information, and flight information. Upload necessary receipts which you did when you filled the online baggage claim. Share your WorldTracer incident report number with them. Leave nothing undisclosed. You should receive a reply within two business days.
If you are located in the US or Canada, you can call 1-888-247-2262 for help. For those from the United Kingdom, can dial 00 800 669 92222. You may try calling their desk number, but given the high volume of call requests, it is unlikely they will be able to attend to you any time soon on the phone. Like you, there will be a crowd of people in the queue with pending requests. You can even try dropping an SOS on their social media pages to have someone revert to you. Keep trying ways to see whichever works instantly for you.
Conclusion
A season of flight delays, cancellations, and diversions can, unfortunately, result in a spree of missing luggage, much to the passenger's chagrin. The Pandemic has complicated things further where airports today are critically short-staffed and the few that are available are mostly fledglings with little to no experience in baggage handling. Missing baggage reports are growing at an alarming rate at all the airports and with most airlines (even the big players) these days. In such a scary scenario, it is best that you travel light (cabin luggage instead of checked-in ones) and non-stop to minimize baggage loss or damage.